The International Centre for Water Resources and Global Change (ICWRGC) is a center working under the auspices of the Intergovernmental Hydrology Programme of UNESCO and also supports the water programmes of WMO and UNEP.
The main responsibilities of the ICWRGCin the OUTLAST project are to:
establish an automated workflow for operational provisioning of global seasonal drought forecasts through merging results from different calculation processes and models carried out in other work packages by the project partners. To allow for easy transfer of the system to an implementation agency, it will be designed as "cloud-ready", which means that all components can be executed in a cloud-computing environment.
develop a concept/roadmap to enable long-term operationalization and implementation of the forecasting system as an operational climate service system to be housed in a government agency. The roadmap will include information on technical requirements, staff requirements, and maintenance costs so that the necessary resources can be acquired at an early stage and the forecasting system can be taken over in a timely manner,
collaboratively identify drought hazard indicators with project partners and with pilot-end users from two pilot regions i.e. Lake Victoria (Eastern Africa) and West and Central Asia,
Co-design of the global drought hazard forecasting system with pilot end-users and WMO. Stakeholders from at least 20 countries will participate as a result of cooperation with the WMO secretariat, UNESCO and RCUWM,
coordinate with WMO and stakeholders from 2 regions (East Africa and West/Central Asia) for optimization of the drought indicators and for the integration of the OUTLAST forecasting system into HydroSOS and
evaluate of the performance of the multisectoral drought forecasting system together with partners, regional stakeholders and other end users.
Being located at the Federal institute of Hydrology (BfG), ICWRGC benefits from the infrastructure and technical expertise of the BfG for operational modeling and data management. The ICWRGC is well integrated into the relevant national and international networks of scientists, stakeholders and UN organizations with a focus on seasonal drought forecasting and monitoring and into the internal expert network for further development of an implementation concept for long-term operation of the OUTLAST system at a governmental institute.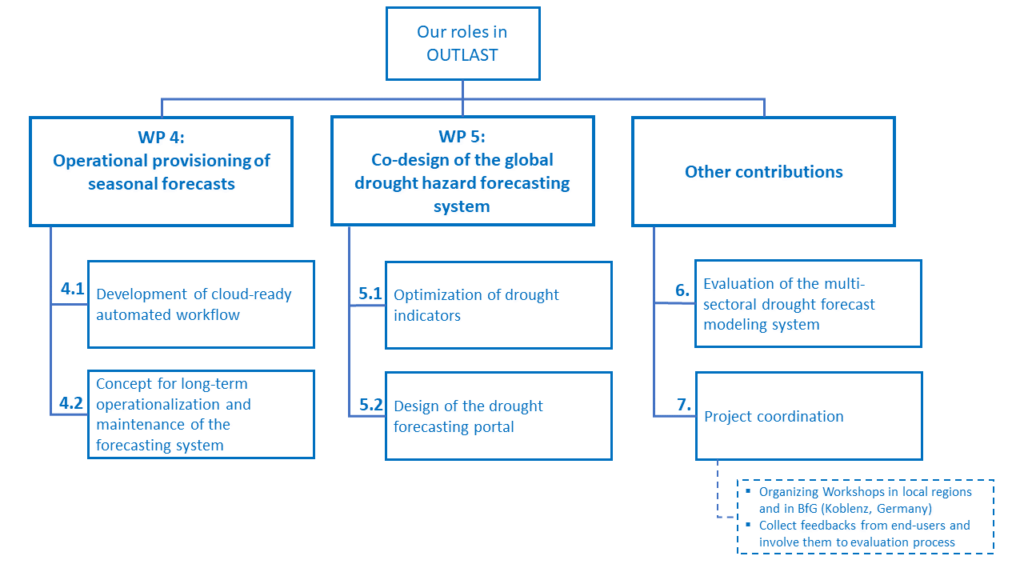 Working Group